Port 25 is the default port used for email communication across the Internet using SMTP protocol. Want to run your own mail server in your house or office but can't because your ISP blocks port 25? Many Internet Service Providers block connections on port 25 to prevent spammers from sending out emails from their network, but this tends to harm the innocent that have a genuine need to host their personal or work email server.
Our inbound SMTP relay service
email store/forward
can solve the problem of ISP blocking inbound port 25. It allows you to run your email server on non-standard SMTP port such as port 26, 2525 etc. Your domain name will use our email servers as MX records and our email servers will receive emails for it, and then forward them to your email server on the non-standard port.
Our
outbound SMTP relay service
allows you to use our email server to relay outbound emails. You will be provided a set of credentials that allows you to connect to our relay server to send emails for your domain name.
With the Synology MailPus Server package, your Synology NAS can become a mail system that supports SMTP, POP3, and IMAP. User accounts and email messages can be managed and archived on your Synology NAS. This tutorial shows how to set up your own domain name for inbound and outbound SMTP relay on Synology MailPlus.
1. Install MailPlus on Synology NAS
Go to
Package Center
to search and install
MailPlus Server
.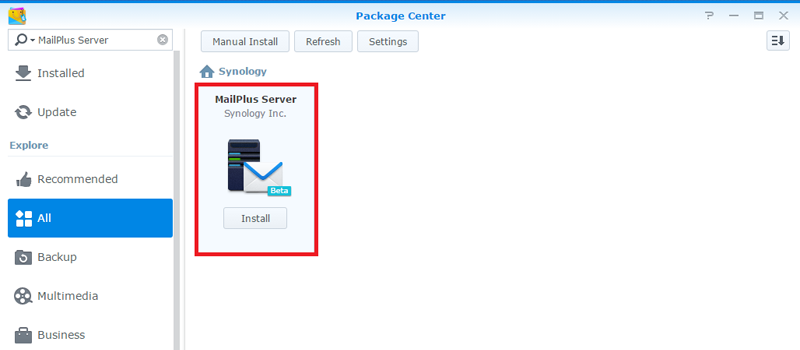 Launch MailPlus Server, and choose
Create a new mail system
assuming that you are setting up a new mail system, and click
Next
to continue the setup.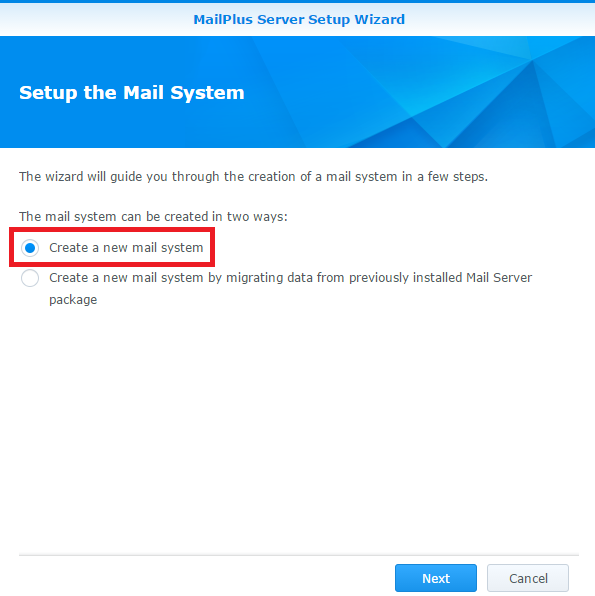 Enter the values below for the fields on the next page:
Account type
: indicates which user account types id allowed to use the services provided by MailPlus Server. Choose
Local users
.
Network Interface
: specifies which LAN is used for MailPlus Server.
Mail System Hostname
: your
registered
domain name. The hostname will be part of your email address (the portion after the @ sign). For example, if "yourdomain.com" is entered here, then the email addresses will be like "user@yourdomain.com".
Volume
: defines where MailPlus Server and its data will be stored.
2. SMTP settings on the MailPlus server
By default, the SMTP protocol runs at port number 25. We assume that the ISP blocks port 25, so we will run MailPlus server on port 2525. Open manager interface, navigate to
SMTP
->
General
tab and set up the server as shown in the image below.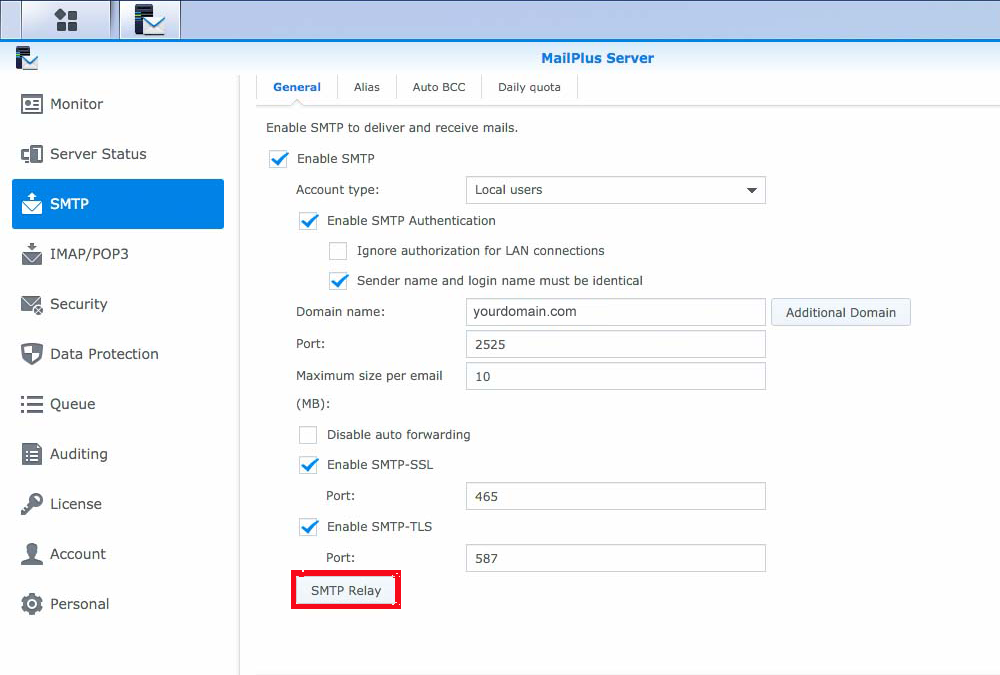 The
Domain name
field is your registered domain name. If your ISP does not block inbound port 25, you can leave the
Port
field as 25. Otherwise, use port 2525 or any other alternative port such as port 26.
3. Set up SMTP relay
Assuming that your ISP blocks outbound port 25 and you cannot send out emails, you can sign up for our
SMTP outbound relay
service. You will be provided a set of username and password to log onto our SMTP relay server relay.dynu.com.
Then let's set up SMTP relay on MailPlus server. As shown in the above image, there is a button
SMTP Relay
at the bottom of the
General
tab of
SMTP
settings. The SMTP relay may also be located in the
Delivery
tab of
SMTP
settings if you have a different version of MailPlus server.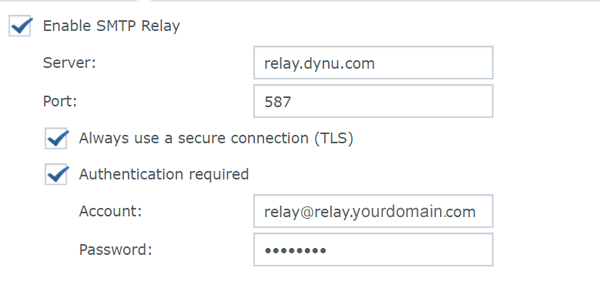 If you use our SMTP outbound relay service, we recommend that you refer to
this tutorial
to set up the appropriate SPF record and DKIM signature as well.
4. Port forwarding
Port forwarding is necessary if the server is running behind a router. We need to open port 2525 on the router so that traffic is forwarded to MailPlus server. Assume that the server running MailPlus server runs on LAN IP 192.168.0.10. If your ISP does not block inbound port 25, you need to do port forwarding for port 25.

To be able to receive emails on port 2525, you need to sign up for our
email store/forward
service.
5. DNS Records
There are 2 types of DNS records you need to set up so that you can receive and send emails for your domain name.
The first one is an A record that points your mail server name mail.yourdomain.com to your server's IP address. This is also the hostname you can provide as ETRN host if you are using our email store/forward service. The ETRN port is the port on which you set the SMTP protocol to run. In our case, it is port 2525.
The second one is MX records for your domain name. MX records define what hostnames are responsible for receiving emails for your domain. If you use our email/store forward service, the MX records will point to our mail servers: store1.dynu.com with priority 10 and store2.dynu.com with priority 20. If your ISP does not block port 25, then the MX record would point to your own mail server, mail.yourdomain.com.
The configurations above are for reference only. You may need to adjust the settings based on your situation. If you have any question regarding the setup, you can open a support ticket with us. For more information on how to set up Synology server and Synology Mail client, you can refer to
Synology
site.