Dynu IP Update Client for...
Dynu IP Update Client for Windows
Dynu IP Update Client is a powerful client software that detects any changes to your system's IP address and reports it to Dynu name servers so that your domain name points to the IP detected by the client. It works for both top level domain names (yourdomain.com) as well as third level domain names (yourdomain.dynu.com). You may
download
and follow the instructions below to setup the client.
This guide is for Dynu IP Update Client version 5.4. If you have an older version of the client, we suggest that you
download
and use the latest version 5.4. You may check out a list of the powerful features of the client
here
.
Login
Username
Your Dynu account username. You may find it in the
My Account
and then
Contact Details
section in the control panel. It can be changed in the
Change Username/Password
area.
Password
You may use your account password or take advantage of setting up a separate
IP update password
different from the account password. If you sign up for
membership
, you can set up different passwords for different
groups
for other users to use.
Group (Optional)
Use 'Group' parameter if you want to update IP address for one or a collection of hostnames including subdomains that are grouped together and share the same IP. You may set up group for your hostnames in the
Groups
section of the control panel. Make sure that you leave the 'Group' field empty if you did not assign your hostnames to a group in the control panel. Leaving 'Group' field empty will update all the hostnames in the user account that have not been assigned a 'Group'.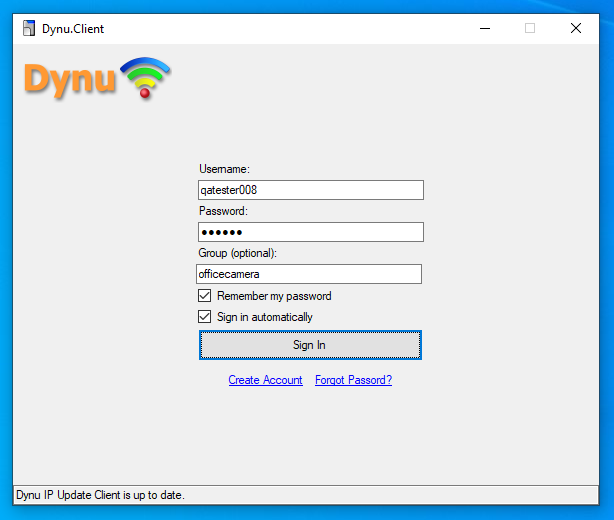 Activity
The 'Activity' tab displays information regarding IP address update progressively. By default, it detects IP every 120 seconds. You can also initiate an IP update by clicking the 'Update IP' button.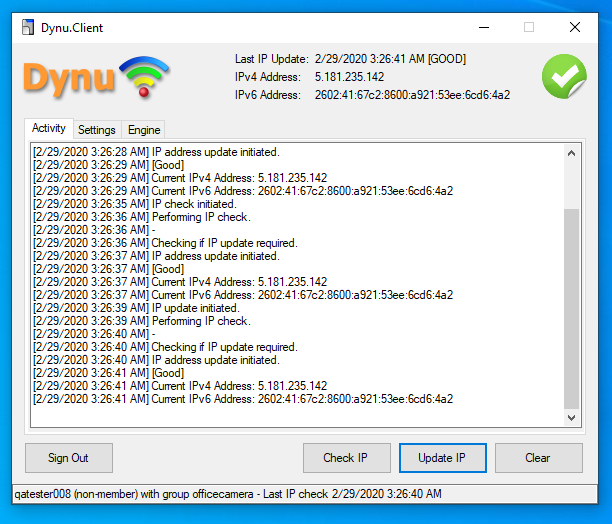 Settings
Connection Type
Detect IP Address on Client Side (LAN Internal IP Address) - Your computer's IP address will be detected on your local computer.


Detect IP Address from Server Side (Router External IP Address) - With this option, your computer IP or the IP Address of NAT firewall or Proxy is detected. It will detect the IP which your ISP has provided to you.


Detect IP Address from both Client and Server Side - This method is quite useful in situations where your computer does not access the Internet through a firewall and your computer has multiple IP addresses.


Use this IP Address - This option is useful when you want to run the client on one computer but want your domain to point to IP address of another computer.


Detect IP Based on MAC address - This option allows you to detect the IP based on MAC Address.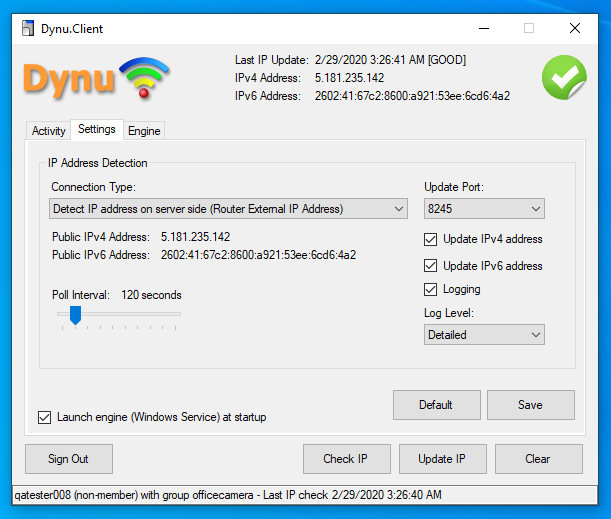 Poll Interval
Using this you can allow your client to detect your IP in the chosen time interval. By default, the client detects IP every 120 seconds.
Update Port
You can choose which port to perform IP updates. Use a port other than port 80 to avoid ISP proxy.
Update IPv4 address
Enable this if your network has an IPv4 address and you want the hostname mapped to the current IPv4 address.
Update IPv6 address
Enable this if your network has an IPv6 address and you want the hostname mapped to the latest IPv6 address. Keep this option disabled if your ISP does not provide you with IPv6 connectivity.
Logging
Logging allows you to keep track of the client activity and debug any configuration or connection issues you may have.
Log Level
The default 'Detailed' log level allows you to monitor your IP changes. You can check the logs by clicking the 'Log Files' button in the 'Engine' tab.
Launch engine (Windows service) at startup
Checking this field allows the Windows service to start up when the system boots up. IP updates will be performed in the background.
NOTE
: Please click 'Save' button to save any changes.
Engine
Engine must be started for the client to perform IP checks and IP updates. Starting the engine will start a Windows service that runs quietly in the background to do IP updates. If the engine is turned on, the IP updates will be running even if you exit the client.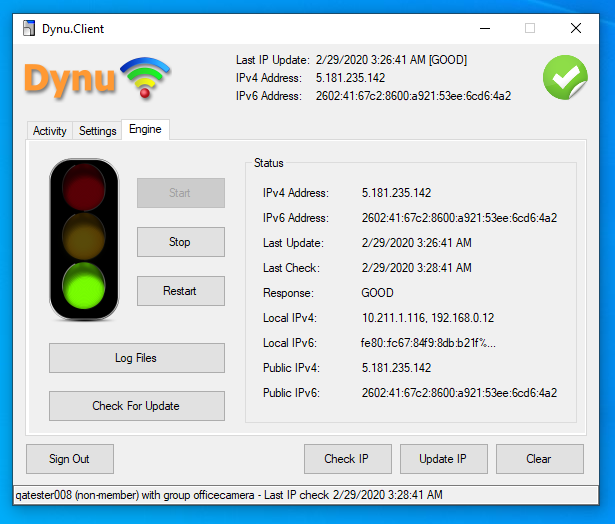 Start
This button will start the engine.
Stop
This button will stop the engine. No IP checks and updates will be performed if the engine is stopped.
Restart
Clicking this button will restart the engine.
Log Files
Clicking this button will open the directory where the log files are kept.
Check For Updates
You can install the latest version of the client by clicking this button.