What is DNSSEC?
DNSSEC stands for Domain Name System Security Extensions and it validates responses to DNS queries before they are returned to the client. The client sends a query asking for a particular DNS information with a cryptographic key, and the client's DNS server retrieves the answer and validates it using another cryptographic key.
As a leading Dynamic DNS and managed DNS service provider, our service boasts rapid propagation with low TTLs and reliable device connectivity. Users hosting their domain names with us or using our dynamic DNS service have the option to enable DNSSEC in a few simple steps.
How to set up DNSSEC?

Step 1
Log into
control panel
, go to

DDNS Services
and click on your domain name.

Step 2
Once the DNS details page of your domain name loads, you will see an option to turn on and off DNSSEC as shown below. If you are unable to slide the DNSSEC button to enable it, you may need to first become a paid
member
for $9.99/year.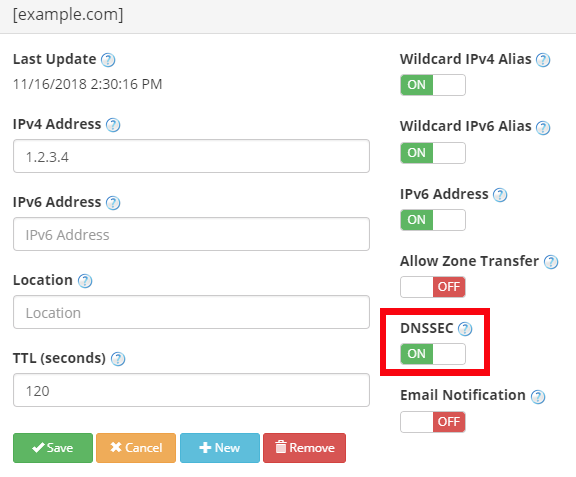 Step 3
After enabling the DNSSEC option, you will be redirected to the

Zone Settings
page where you are provided instructions on how to add the correspondent DS record with your registrar.

If your domain name is registered with us,
open
a support ticket with the DS record to have the DS record added.
If your domain name is registered with other companies, check with them on how to have the DS record added.
If your current registrar does not allow you to add a DS record, you may
transfer
your domain name to us to take advantage of our DNSSEC secured dynamic DNS service as well as DNS hosting services.