Dynu gives you full control over all the DNS configurations for your domain names. You can log onto the control panel to manage your DNS records.
What is an SPF record?
An SPF record is a type of DNS record that identifies which mail servers are permitted to send email on behalf of your domain. The original specifications for SPF required storage of SPF information for domains within TXT type records. Later specifications created the SPF type record. Currently, there are no SPF implementation that will not use TXT type records if they are present, so SPF type records are not required. There are, however, many SPF implementations that will not use SPF type records, so TXT records remain required. It is suggested that both SPF and TXT records be used, although either by itself was acceptable. So it is a good idea to have identical SPF information for a domain under both a TXT type record and an SPF type record.
How to add an SPF record?
To add an SPF record in the SPF type record, you may follow these 3 steps.

Step 1
Log into
control panel
, go to

DDNS Services
and click on your domain name.

Step 2
Go to

DNS Records
to add an SPF Record.
Node Name
Enter the subdomain name, for example,
subdomain1.
Leave empty for primary domain name.
Type
Choose "SPF-Sender Policy Framework".
TTL
How long the server should cache the information.
Text
Enter the SPF data. For example,
"v=spf1 ip4:204.200.197.197 -all"
. You may use
SPF TXT Generator
to generate SPF text.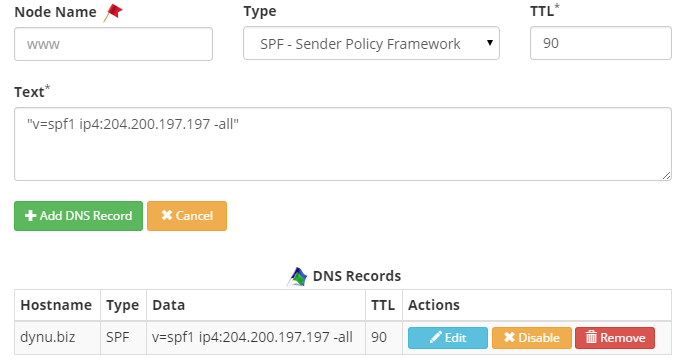 Step 3
Check if your SPF record has gone into effect using
DNS Lookup
tool. Enter
dynu.biz
as Hostname, and choose "TXT-Text" as Type.

NOTE
: It is advisable to publish an SPF record that uses
~all
instead of
-all
as otherwise it may result in delivery problems.