Dynu gives you full control over all the DNS configurations for your domain names. You can log onto the control panel to manage your DNS records.
What is a CNAME record?
Canonical Name (CNAME) records allow you to associate new subdomains with an existing domain's DNS records. CNAME records are helpful when pointing multiple domain names to the same host.
How to add a CNAME record?
To add a CNAME record in the control panel, you may follow these 3 steps.

Step 1
Log into
control panel
, go to

DDNS Services
and click on your domain name.

Step 2
Go to

DNS Records
to add a CNAME Record.
Node Name
Enter the subdomain name for the alias assignment. For example,
ftp
.
Type
Choose "CNAME-Canonical Name".
TTL
How long the server should cache the information.
Hostname
Enter the host name you want the alias to point to.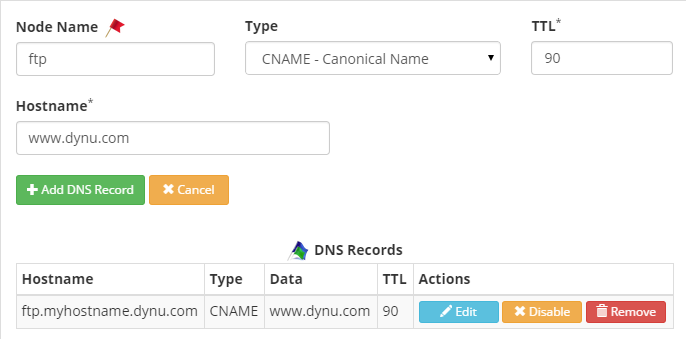 Step 3
Check if your CNAME record has gone into effect using
DNS Lookup
tool. Enter
ftp.myhostname.dynu.com
as Hostname, and choose "CNAME-Canonical Name" as Type.

When creating CNAME Records, please note:
If "Wildcard Alias" is enabled for your domain name in the control panel, all aliases unless otherwise specified point to your primary domain IP address. For example, www.yourdomain.com, ftp.yourdomain.com, mail.yourdomain.com automatically point to the 'A' record of your primary domain name yourdomain.com. There is no need to set a CNAME record for that.
CNAME records for root domain are invalid based on DNS RFC's. If you want your domain name yourdomain.com point to some other site, you may use "URL Forwarding" function in

Web Redirect

.

Wildcard Alias
To point all your subdomains to your primary domain, you can enable "Wildcard Alias" for the domain name. All subdomains will automatically redirect to your primary domain. Please note that each separately configured subdomain (either with an A record or a CNAME record) has priority over the wildcard configuration.