Dynu gives you full control over all the DNS configurations for your domain names. You can log onto the control panel to manage your DNS records.
What is an NS record?
Name Server (NS) records identify the name servers that are authoritative for the DNS zone. Every zone must have at least one NS record. Using two or more NS records is better so that if the first nameserver is unavailable, the zone will still be accessible.
To avail our dynamic DNS service, you must list one or more
Dynu name servers
for your domain name. If you registered your domain name(
yourodomain.com
) with Dynu, Dynu name servers are already listed for your domain name. If your domain is with some other registrar, you need to change the name servers at your current registrar.
You can add additional NS records to a domain if you plan on using additional name servers that do not belong to Dynu in the control panel.
How to add an NS record?
To add an NS record in the control panel, you may follow these 3 steps.

Step 1
Log into
control panel
, go to

DDNS Services
and click on your domain name.

Step 2
Go to

Name Servers
to add an NS Record.
Node Name
Enter the subdomain name. For example,
subdomain1
. You can delegate subdomains of your own domain name to other DNS servers this way. Leave empty for primary domain.
Hostname
Enter the name of a DNS server. For example,
ns1.dynu.com
. The default name servers are ns1.dynu.com to ns6.dynu.com.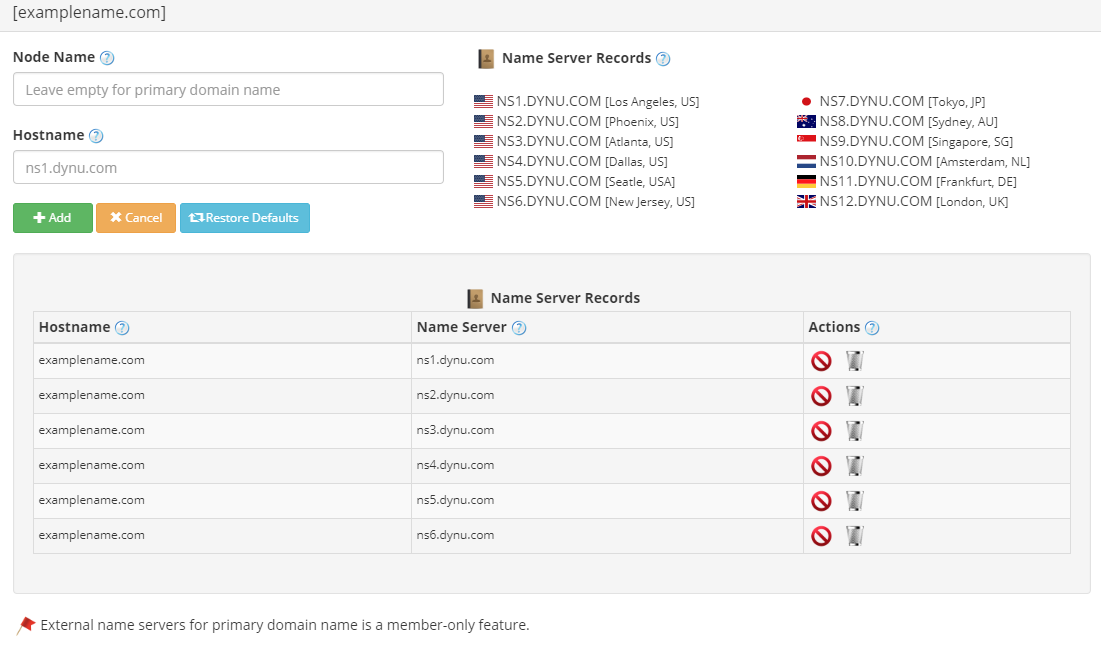 Step 3
Check if your NS record has gone into effect using
DNS Lookup
tool. Enter
examplename.com
as Hostname, and choose "NS-Name Server" as Type.
When creating NS Records, please note:
NS records for third levels domains something.dynu.com or something.dynu.net are not supported. However, you may add NS records for something.yourdomain.com by putting something as

Node Name

for your primary domain.
Dynu name servers are the below and you can choose one or more to use for your domain name:



NS1.DYNU.COM
NS2.DYNU.COM
NS3.DYNU.COM
NS4.DYNU.COM
NS5.DYNU.COM
NS6.DYNU.COM
NS7.DYNU.COM
NS8.DYNU.COM
NS9.DYNU.COM
NS10.DYNU.COM
NS11.DYNU.COM
NS12.DYNU.COM